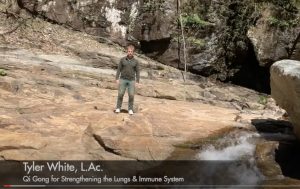 In this video, learn specific Qi Gong movements to help enhance the lungs, liver and overall Chi flow within the body, from Tyler White, Lic. A.
In Chinese medicine the lungs are the most important organ related to immune health. Do these exercises once, twice or several times daily to strengthen your lungs – build up your lung Chi and consequently build up your immune system.
Tyler is a graduate of Daoist Traditions College of Chinese Medical Arts in Asheville and is a resident of West Asheville, N.C.  He is a Licensed Clinical Acupuncturist (Lic A) and Chinese Herbalist, practicing in Asheville.